Jordan Shusterman
FOX Sports MLB Analyst
Every Thursday, Jordan Shusterman takes a look at one thing from each MLB division that we've learned from the past week of action. 
AL East: Aaron Judge is back hitting homers and that's what matters
Now that we've made it through days of goofy discourse surrounding Judge's amusing side-eye before hitting a home run and where base coaches are supposed to stand, I'd like to remind people the most important part of this entire situation: Aaron Judge is back. And he's hitting home runs. And not just when he might be getting some help from his first base coach picking signs (which is totally legal!), but also the next night when the Yankees needed another big swing against the rival Blue Jays.
Judge's recent return from the IL has undeniably sparked this Yankees lineup once again, just as he did all of last season. He's homered five times in his past five games, and has suddenly re-entered a home run race that is shaping up to be far more entertaining than the one Judge ran away with in 2022. At this time a year ago, Judge's 17 homers were already five clear of Mike Trout, Mookie Betts, C.J. Cron and Yordan Álvarez, and the gap only widened as the season went on.
Through seven weeks of 2023, it's Pete Alonso (15) atop the dinger leaderboard, followed by Max Muncy (14), Adolis García (13) and Luis Robert Jr. and Patrick Wisdom (12). Judge is on their tails with 11 (and tied with six others). Perhaps Judge stays scorching hot and eventually pulls away from the pack again, but I'm optimistic this will be a close competition to watch all summer long.     
AL Central: Vinnie Pasquantino and Salvador Pérez are bright spots in Kansas City
The Royals aren't very good. There was a hot second a few weeks ago when they lost a series at home to the lowly A's that I thought they might be the worst team in the league. At this point, I still think they are better than A's — but I also think they might only be better than the A's. It's going to be a long season. 
Yet one of the beautiful things about this sport is that even the worst teams in the league always give fans a handful of individuals to cheer about all year long, no matter the record. (Even in Oakland! See former Royal Brent Rooker!) This year, two dudes in particular are doing the heavy lifting when it comes to providing the K.C. faithful a reason to tune into their rebuilding Royals: Pérez and Pasquantino. 
Pérez has had an iconic career in Kansas City, spanning from the top of the baseball world in 2015 as World Series champion to the languid lows of the rebuild currently in progress. Through the highs and lows, Pérez's infectious smile and titanic homers have cemented him as a certified franchise legend; his relationship with the fans is unlike many across the sport. After swatting a catcher-record 49 dingers in 2021, Pérez regressed to a respectable but unspectacular 23 in 2022. Two years ago felt like the epic peak for the powerful backstop, and it seemed reasonable to expect a slow decline on offense as he entered his mid-30s. Instead, Pérez is back to slugging with the best of 'em in 2023, launching nine homers thus far despite continuing to swing at absolutely everything. He's a joy to watch, and it's great to see him raking to this extent once again.
If Pérez is the past and present of this era of Royals baseball, Pasquantino is looking like the present and the future. The 25-year-old first baseman stood out last year for his elite plate discipline, walking more than he struck out as a rookie. That skill has carried over into his sophomore season — Pasquantino's 193 plate appearances are currently the most in baseball among players with more walks than strikeouts (of which there are only nine with more than 100 plate appearances). He's also not just up there to walk, of course — Pasquantino can do damage, too.
(As for Bobby Witt Jr.? *long sigh* I have no idea. We'll talk about him another week.)                                                                            
AL West: Rangers the new favorite? If not now, when?
Even with all the offseason activity of the Mariners, Angels and Rangers, it still seemed like a safe bet that the Astros would be the team to beat in the AL West. FanGraphs gave Houston a 53.4% chance on Opening Day to take the division crown for the sixth time in seven years, and I honestly thought that number was even a bit low. 
The José Altuve injury in the World Baseball Classic — as well as the rash of pitching injuries in the early going for Houston — certainly lessened the intimidation factor of the defending champions, but there was still so much to like about the roster.
As June approaches, though, it might be time to start asking: What would we realistically need to see from the first-place Rangers to consider them the favorites in the division? Part of me feels like the answer to that question is: when the Rangers are popping champagne after clinching the division and not a second sooner. But despite just a two-game lead that Houston has plenty of time to overcome, FanGraphs has raised Texas' odds to win the division from 12.7% on Opening Day to 33.5% through May 17. (It was at 40.0%, and just 1.1% behind Houston, as recently as three days ago). This feels notable. 
Adolis García goes yard, Rangers trim Braves' lead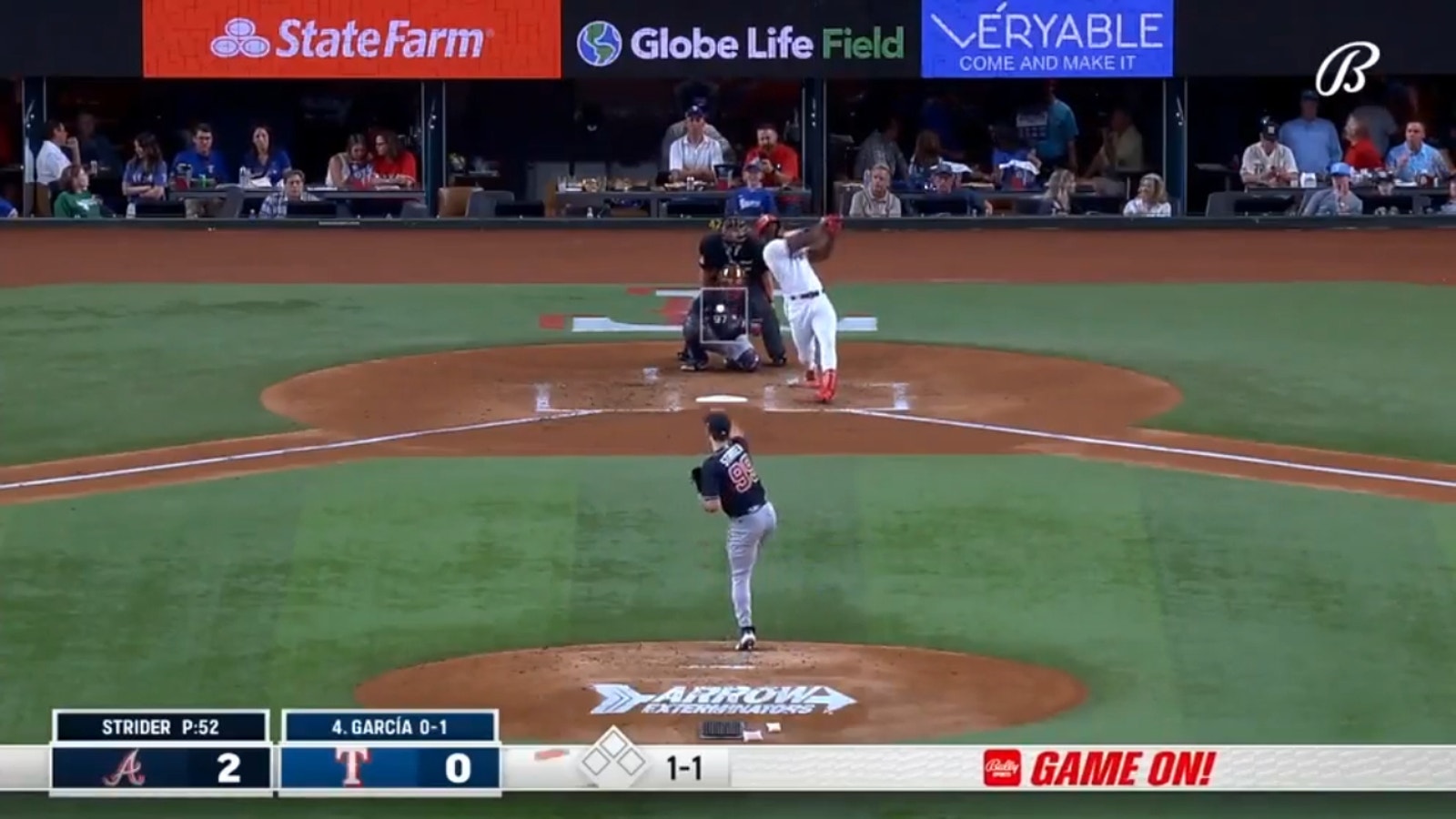 I appreciated how aggressive the Rangers have been the past two off-seasons, but they still did not look like a roster with the depth to contend with the perennial contenders 200 miles southeast in Houston. Yet the degree to which the Astros' offense has struggled (88 OPS+, 25th in MLB) — and Texas' offense has thrived (114 OPS+, third) — has helped close the considerable gap between the two pitching staffs when evaluating the overall strength of these two teams. 
We shouldn't just ignore the Angels and Mariners, either. Seattle is just five games back, which is the fewest number of games back from first place any fourth-place team in baseball. I just think the Rangers have played well enough for long enough to warrant the first crack at being considered a real threat to ther Astros atop the division. I'd still lean Houston somewhat comfortably, but I also think there's real potential for this to be one of the more fun division races for the rest of the season, and it doesn't feel like it's being talked about as such. 
NL East: The Nationals are putting the ball in play
One of MLB's hopes with the combination of new rules was not just to speed up the game, but to fight back against the proliferation of three true outcomes. More plate appearances than ever were ending in walks, strikeouts or homers, limiting the amount of action taking place in the actual field of play over the course of a game. By restricting the shift and making it easier for teams to steal, the idea was to incentivize teams to play for more base hits rather than just trying to draw walks and swing for the fences. 
Is it working? Last year, 33.4% of plate appearances in the regular season ended in a strikeout, walk, or home run. This year that number is slightly up, at 34.5%. And then there's the Nationals, who are sure doing their part to put more balls in play and let more stuff happen over the course of a game. Ranking 29th in homers while running the 27th walk rate and MLB's lowest strikeout rate, just 28.1% of Washington's plate appearances have ended without a ball in play. That mark would be baseball's second-lowest of the past seven years if it holds, and is 2.4% lower than any other team in 2023.
On the flip side, shame on the Dodgers — who are, uh, very good — for continuing to live the TTO lifestyle to a 39.6% clip that leads all of MLB. Of course, it's hard to tell the NL-leading Dodgers that they are doing anything wrong or that the NL East cellar-dweller Nationals are doing it right.
NL Central: The next wave of Reds hitters is on the way
While I didn't have particularly high expectations for the 2023 Reds coming into the season, I was bullish on their talented trio of starting pitchers — Hunter Greene, Nick Lodolo, and Graham Ashcraft — to emerge as one of the stronger young pitching cores in the National League. Early returns have been somewhat mixed on that front. Ashcraft has taken a marked step forward. Greene is still working on dialing in his high-octane arsenal. Lodolo started strong but has struggled with poor command and some minor injuries in recent weeks. 
However, as focused as I was on the starters taking that next step, I also soon recognized that any chance Cincinnati had of becoming a winning team again was far more dependent on the organization's ability to develop any semblance of offense. All the trades of star veteran players over the past two years have bolstered the farm system significantly, but it wasn't clear to what degree the next wave of talent would be impacting the big-league club in 2023. With the recent promotion of 2021 first-round pick Matt McLain and the continued success of top prospect Elly De La Cruz and first baseman Christian Encarnacion-Strand in Triple-A Louisville, it may all be happening far quicker than we thought. 
De La Cruz has been the headliner in this system for a while now, and his ceiling remains the highest as a switch-hitting shortstop with prodigious power and blazing speed. The next era of Reds baseball will likely be defined by his successes and failures. But the flaming hot starts for McLain and CES (as they call him) are far more crucial to the Reds building a legitimate lineup as soon as this year. They may not have All-Star ceilings, but they have a strong chance to succeed as plug–and-play contributors who can hold their own right away. Jonathan India, Spencer Steer and most recently TJ Friedl already represent this archetype for the Reds, and adding more players of this ilk is an excellent floor-raising roster-construction strategy. They've still got a long way to go, but I like what the Reds are building here.
NL West: The Padres can't get a hit with RISP … or most other times, either
Shoutout to Codify Baseball for bringing this jaw-dropping not-so-fun fact to my attention:
That number has since dropped to .196 after going 2-for-14 over the past two days against Kansas City. The Padres' 425 plate appearances with RISP rank 15th in MLB, so it's not like they are getting an usually low number of opportunities to drive these runs in. Yet there they sit at the very bottom in cold, hard 30th place. (Interestingly, the current record holder for lowest BA with RISP since integration is … also the Padres, when they hit .200 with RISP in 1969. That team lost 110 games.)
Oftentimes, when a talented team is in a rut with RISP, it feels especially frustrating because the struggles don't reflect how good the guys are coming to the plate. "We know what this lineup is capable of," a broadcaster may lament, "but they just can't seem to get the big hit at the right time." That sentiment is certainly true to some degree with this fantasy baseball team that general manager AJ Preller has assembled, as I still expect guys like Manny Machado and Jake Cronenworth among others to return to All-Star form at some point this summer. 
At the same time, the Padres aren't just the worst team in MLB with RISP — they are last in batting average overall, batting a paltry .226 as a team. Yes, Juan Soto has started to pick it up and Fernando Tatís Jr. doesn't look rusty one bit. Xander Bogaerts has cooled off relative to his hot start, but he's not the problem. The rest of the lineup, though? No one else is hitting above .253. This might not be just a clutch hitting problem but a hitting problem. 
In today's game, a lineup with a low batting average can still be effective with enough walks and homers. The Padres are built for that, in theory. Whether it be improvement with RISP or something else, the run production needs to improve in a hurry if the Padres want to have any hope of staying in the wild-card race, let alone catching the Dodgers. Their 3.91 runs per game — 26th in MLB — just ain't gonna cut it.
Jordan Shusterman is half of @CespedesBBQ and a baseball writer for FOX Sports. He has covered baseball for his entire adult life, most notably for MLB.com, DAZN and The Ringer. He's a Mariners fan living in the Eastern Time Zone, which means he loves a good 10 p.m. first pitch. You can follow him on Twitter @j_shusterman_.
---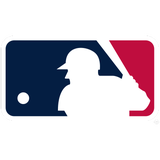 Get more from Major League Baseball Follow your favorites to get information about games, news and more
---