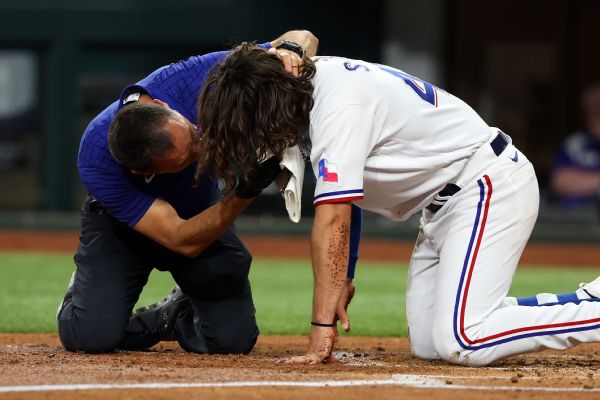 ARLINGTON, Texas — Rangers outfielder Josh Smith was taken to an area hospital after being hit in his face by a pitch in Texas' 2-0 loss to the Baltimore Orioles on Monday night.
Smith, a left-handed hitter, was struck on the right side of his face in the third inning by an 89 mph slider from reliever Danny Coulombe. Smith spun back to his left and dropped to the dirt in the batter's box, breaking his fall with his left hand while holding his face with his right hand.
Smith was attended to by a team trainer before walking off the field under his own power.
"He got hit in the face area, in the lower jaw," Rangers manager Bruce Bochy said. "We did take him to the ER. He had some CT tests. They came out clean. So, we got good news there. He's feeling better as I'm speaking right now. Tomorrow, we'll just reevaluate him."
Coulombe was pitching because Orioles starter Kyle Bradish left after being hit on his right foot by a line drive in the second inning. Baltimore announced Bradish has a bruised foot after initial X-rays taken at the stadium revealed no breaks.
The Associated Press contributed to this report.