Warren Sharp
FOX Sports NFL Writer
This NFL's Super Wild Card Weekend is here! The slate has some great matchups in store, including the Seattle Seahawks-San Francisco 49ers on FOX and the FOX Sports App. 
I ran my models to give you my favorite betting edges and predictions for the first weekend of the playoffs. My goal for this weekly column is to always provide you with nuggets you didn't know before reading this piece.
Now that the NFL's second season is starting, let's take look at my favorite edges of the week (odds courtesy of FOX Bet).
No. 7 Seahawks (9-8) at No. 2 49ers (13-4) (4:35 p.m. Saturday, FOX and FOX Sports App)
San Francisco's defense is a pass funnel. You want to pass early and often against them, as they rank as the NFL's best run defense. 
However, you want to throw the ball deep to attack their corners in coverage, rather than underneath, as they have solid linebackers that assist in pass defense. 
In fact, the 49ers have massive splits based on passing depth. 
Against passes thrown 15-plus yards downfield, they rank 31st in EPA/att (+0.71) and 31st in success rate (54%). 
But against passes thrown under 15 yards, they rank first in EPA/att (-0.10) and second in success rate (42%). 
So we know that the 49ers are vulnerable deep, but the problem is, the Seahawks don't attack there, particularly on the road. 
On the road, Seattle throws 10-plus yards downfield at the 24th lowest rate in the NFL and 20-plus yards at the 26th lowest rate, where the 49ers are weak.   
But they throw 1-9 air yards at the fourth-highest rate in the NFL, where the 49ers are dominant. 
And that dichotomy has only been exacerbated to close the season. 
Since Week 8, Seattle ranks 30th in percentage of passes thrown 10-plus yards downfield. 
Against the 49ers in Week 15, despite it being a home game, the Seahawks threw only 6% of passes 15-plus yards downfield. The NFL average is 20%. 
In both games vs. the 49ers this year, Geno Smith averaged just 4.6 air yards per throw compared to 8.0 air yards per attempt against everyone else this season. Just 2.7% of Smith's throws in those games were 20 yards or further downfield compared to a 10.6% rate outside those games. 
Simply put, Seattle's offense of late does not attack the weak point of the 49ers defense. 
They focus on short passes and runs, which the 49ers defense dominates against, ranking first in defending both. 
This season, Seattle's offense has ranked above average, but that has come vs. the NFL's 10th-easiest schedule of opposing defenses. 
And every time they step up in class to play a top-10 defense, they falter immensely, save for one breakout performance vs. the Saints defense which featured two fourth-quarter touchdowns after trailing 31-19: 
7 points vs. No. 1 defense of SF

13 points vs. No. 1 defense of SF

16 points vs. No. 10 defense of TB

17 points vs. No. 7 defense of DEN

23 points vs. No. 6 defense of NYJ
Only one of those five was a true road game, as three were played in Seattle and one was at a neutral site. 
I liked the first-half under at 21, as there is expected weather, projected to be rain, at times heavy, with periods of gusty winds reaching 25-30 mph. At 20.5, I'd still lean that way, but with less confidence. 
Justin Herbert or Trevor Lawrence, who faces more pressure in first career playoff start?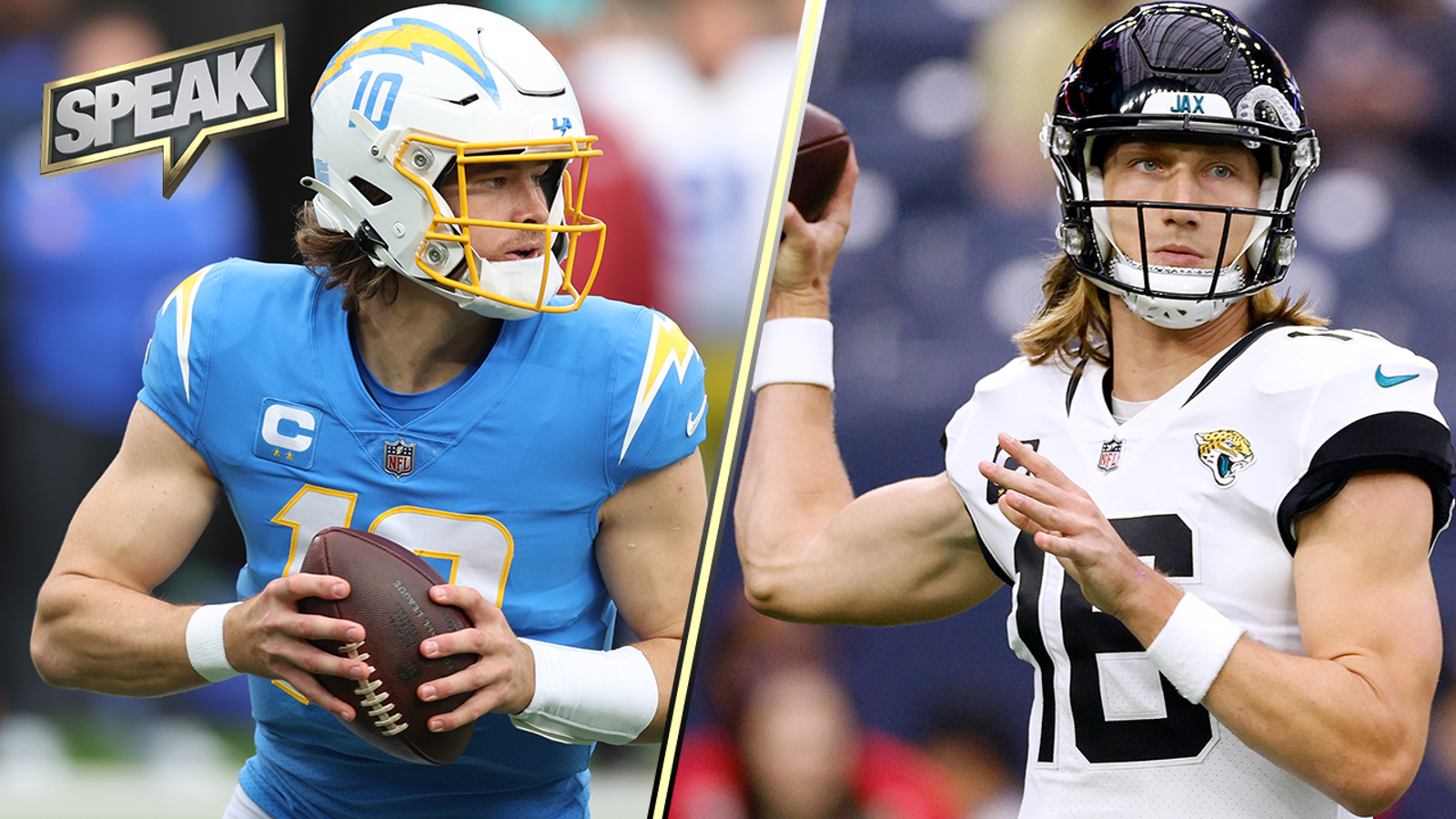 Emmanuel Acho and LeSean McCoy discuss who they are more confident in heading into the playoffs: Justin Herbert or Trevor Lawrence.
No. 5 Chargers (10-7) at No. 4 Jaguars (9-8) (8:15 p.m. Saturday, NBC)
Over the last five weeks of the NFL season, no team blitzed more on early downs than the Chargers. 
But they still recorded pressure at a below-average rate. 
That could cause problems for their defense. 
On early downs when blitzed but not pressured over the second half of the season, Lawrence is 40-of-47 for 9.5 YPA, +0.55 EPA/att and 60% success.   
All of these rank top-10 in the NFL, with several ranking top three. 
So the Jaguars could have success passing the ball on early downs. 
They should also have success running the ball, as the Chargers have the NFL's stone worst run defense on early downs. 
They are allowing +0.05 EPA/att, 5.5 YPC and 43% success to early-down RB runs. 
Those rank 32nd, 32nd and 31st respectively. 
And over the second half of the season, they've gotten no better. 
They still rank bottom-five in every one of these metrics over the second half of the year. 
Combining passing and rushing, this year the Chargers defense ranks 31st in yards per play allowed on early downs. 
And the Jaguars offense ranks sixth in EPA/play on early downs. 
But they've been getting even better since Trevor Lawrence has had more time to work with Doug Pederson. 
Last year, under Urban Meyer, Trevor Lawrence ranked bottom-10 in literally every single stable QB metric, including passing without pressure, passing inside the pocket, passing without play action on early downs, passing without moving, etc. 
Lawrence ranked 34th in EPA/att last year. 
This year, Lawrence started off slowly under Pederson. Over the first half of the year, he ranked 23rd in YPA, 14th in EPA/att and 13th in success rate. 
But since Week 9, Lawrence ranks top-10 in all three metrics, including second in EPA/att, immediately ahead of Patrick Mahomes. 
I think the Jaguars will give the Chargers everything they can handle and lean over. 
Patrick Mahomes, Justin Herbert, Josh Allen round up Top 3 QB playoff rankings
Skip Bayless reacts to The Ringer's latest playoff QB rankings.
No. 7 Dolphins (9-8) at No. 2 Bills (13-3) (1:05 p.m. Sunday, CBS)
The Dolphins offensive style of play of late has been shooting for bigger plays on early downs and that has left them in far more third-down situations, many of which are third-and-long. 
However, there has been a massive difference between Tua Tagovailoa and Skyler Thompson in these situations. 
Tua converted 40% of third downs and 32% of third-and-longs

Skyler converted 32% of third downs and 8% of third-0-and-longs
Unfortunately for the Dolphins, I don't envision these conversion rates increasing much against the Bills with Thompson at the helm. 
What does this mean on Sunday in Buffalo?   
Shorter drives for the Dolphins, both in total yardage and time of possession. 
And that means better starting field position for the Bills and more time to be on the field offensively to score points. 
While Josh Allen has struggled since the bye and has completed 60.6% of his passes (28th) for 6.9 yards per pass attempt (20th), I think the Bills offense is capable of hanging a crooked number on the Dolphins defense. 
Daniel Jones, Giants have Vikings on upset alert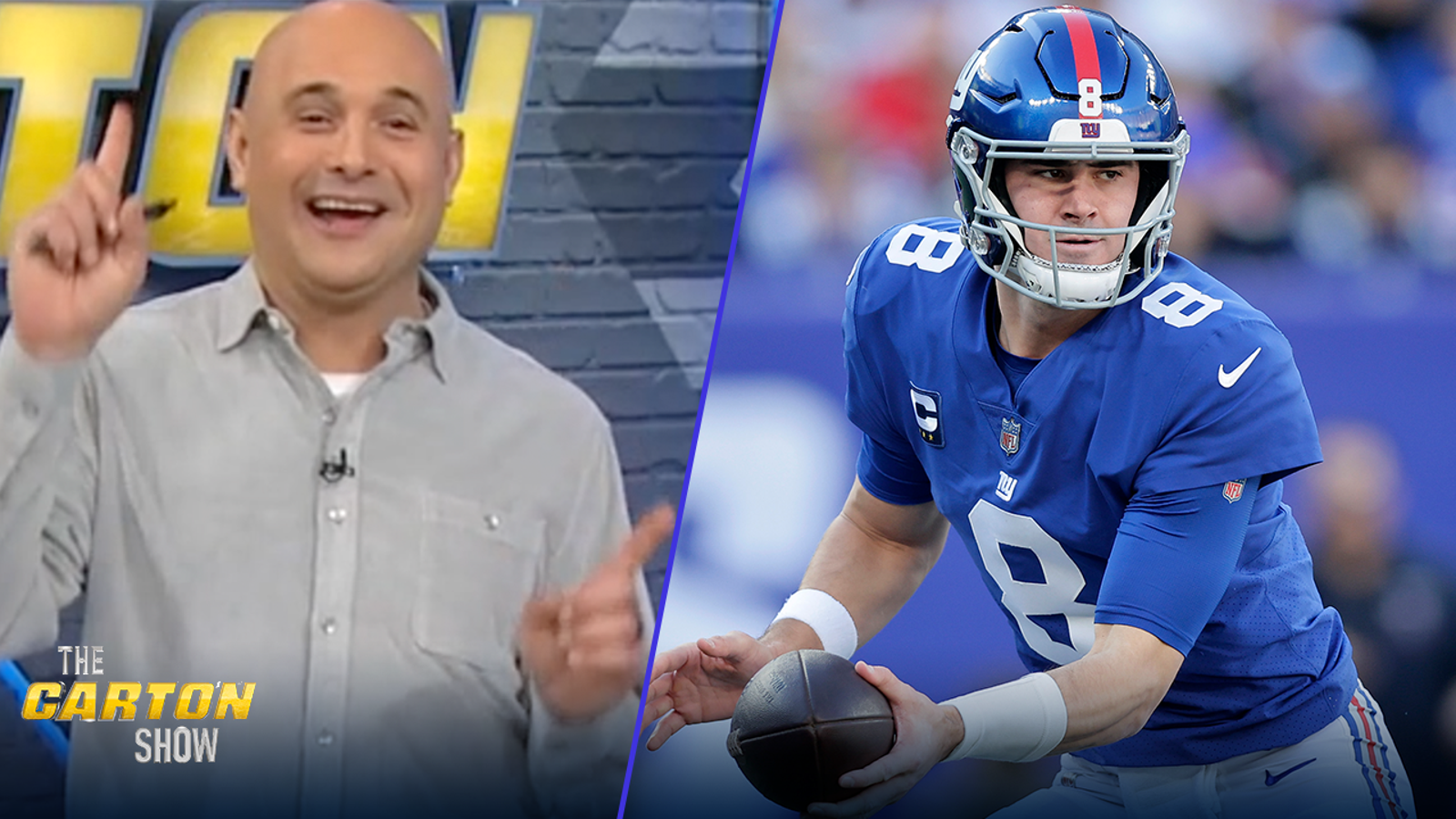 Craig Carton lays out why we could see an upset in the Wild Card round.
No. 6 Giants (9-7-1) at No. 3 Vikings (13-4) (4:40 p.m. Sunday, FOX and FOX Sports App)
The Vikings have the worst defense of any playoff team this year. But there is a specific way to attack them. 
Minnesota's defense ranks 16th vs. runs but 26th vs. passes. 
Over the second half of the season, the Vikings pass defense ranks above average on third downs, but is dead last on early downs. 
And the 31st ranked team, the Bears, is nearly closer to the NFL average than they are to the 32nd ranked Vikings. 
Additionally, vs. early-down RB-runs, the Vikings defense ranks top-10. They rank eighth in EPA/att (-0.11) and seventh in YPC (3.9). This, despite the fact that they play with the lightest box count in the NFL. 
As such, the way to attack the Vikings on early downs is through the air, trying to avoid third downs altogether but setting up third-and-short to run the ball when possible. 
As further proof the Giants should look to stray from too many early-down runs: 
First, when these two teams met earlier this year, Saquon Barkley's -0.09 EPA/att on early-down runs vs. MIN in Week 16 was his third worst of the year. 
His only worse performances came vs. the Seahawks and Lions. 
But the way those teams slowed him down was by stacking the box.   
Seahawks: 80% of runs were vs. 7-plus man boxes

Lions: 83% of runs were vs. 7-plus man boxes
But the Vikings didn't need to do that to slow down Barkley. They played with a 7-plus man box on only 46% of Barkley's early down rushing attempts. And he still only recorded -0.09 EPA/att.   
On 13 early down rushes, Barkley's longest rush was just seven yards, despite seeing his lowest average box count on the season since Week 1. 
Second, on early downs, Daniel Jones completed 82% of his pass attempts and averaged 8.5 YPA. It was his most efficient high-volume early-down passing day of his career based on those two metrics. He did throw one ill-advised interception in the fourth quarter which hurt his EPA numbers. 
Third, Daniel Jones completed just 33% of his passes on third down, which ranked 33rd out of 34 qualifying QBs that week.  He was just 3-of-9 on third-down passes and averaged -0.30 EPA/att.   
The Giants are getting healthier on defense and could be a lively underdog. 
No. 6 Ravens (10-7) at No. 3 Bengals (12-4) (8:15 p.m. Sunday, NBC) 
As much as we want to say the Bengals, leading 17-0 last week, took their foot off the gas offensively and should cruise to another victory vs. the Ravens, there were several things to note about that game. 
First, the Bengals had 13 total drives in that game and only four of 13 gained over 12 yards. 
Second, on the 10 drives the Bengals started with the ball in their own territory, they produced the following: 
Two field goals

Seven punts

One fumble (at their own 9-yard line which turned into a Ravens field goal)
The Bengals scored their two touchdowns early in the game thanks to two Ravens interceptions from a third-string QB which set up the Bengals at the Ravens 32 and 48-yard line. 
We also know the Ravens were resting players, including two defensive backs. 
In the first meeting of the season in Baltimore, the Ravens held the Bengals to just 17 points, and the Bengals made only three trips into the Ravens red zone. The first four drives for the Bengals, they never gained more than 17 yards and punted four straight times. And that was without newly paid Roquan Smith, who has made a massive difference for the Ravens defense. 
And that first meeting featured RT La'El Collins and RG Alex Cappa. Collins was lost for the season in Week 16 and Cappa was lost for the season in Week 18. This will be the first game of the year the Bengals will be playing without the entire right side of their line. 
So, I absolutely believe the Ravens defense will be able to show up here and do their best to limit the Bengals offense, particularly considering the Bengals offensive line. 
The trouble is, the Ravens offense could put their defense in precarious positions and I have little confidence they'll be able to do enough to outpace the Bengals unless massive positive variance goes their way due to turnover luck. 
Jerry Jones expresses confidence in Dak Prescott ahead of Cowboys vs. Bucs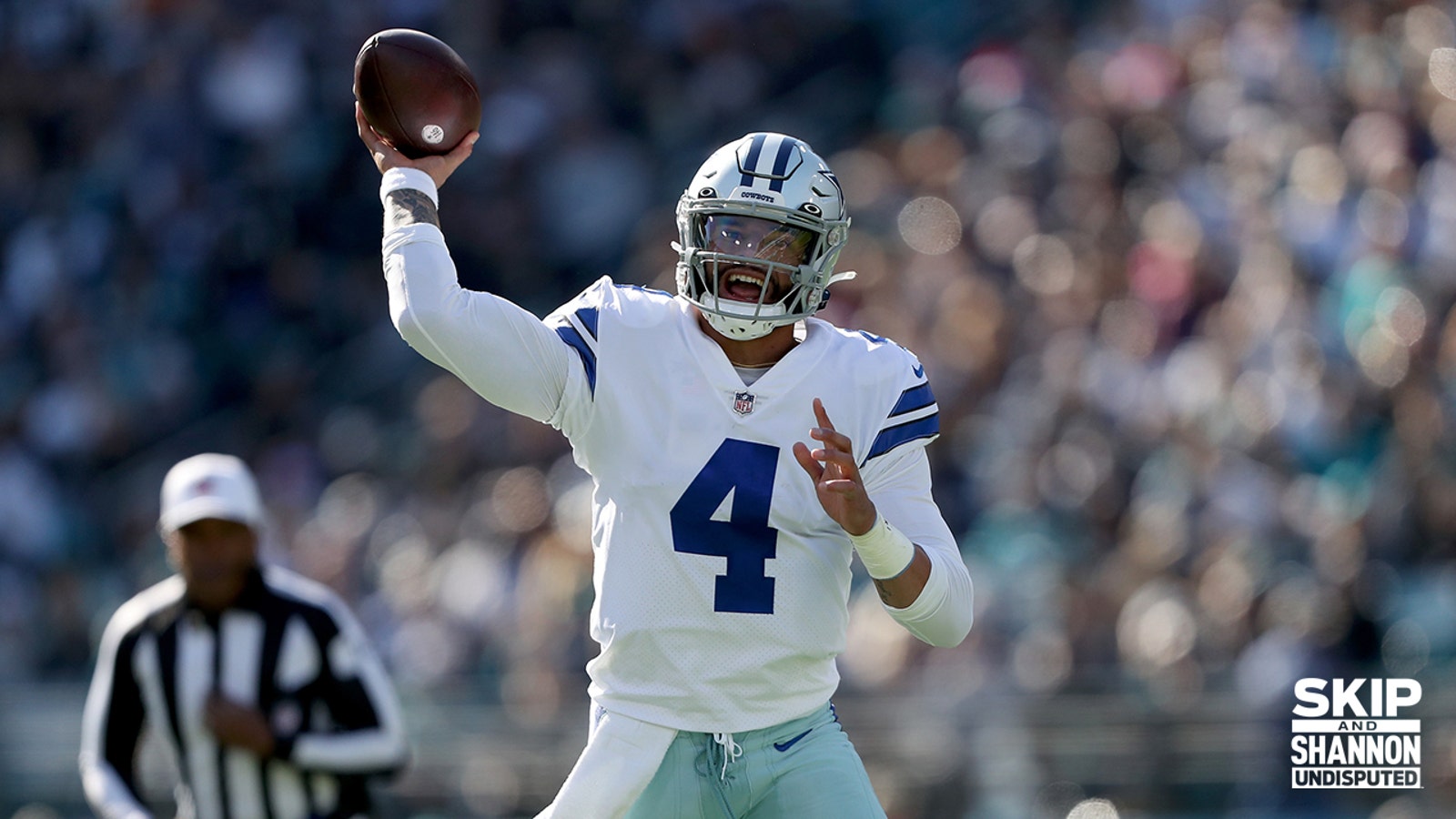 Skip Bayless and Shannon Sharpe react to Jerry Jones' comments ahead of Dallas Cowboys-Tampa Bay Buccaneers Wildcard Weekend matchup.
No. 5 Cowboys (12-5) at No. 4 Buccaneers (8-9) (8:15 p.m. Monday, ABC/ESPN)
The frustrations with the Bucs offense haven't changed and likely will not change. 
In addition to their run rate on first down, the Bucs use play action at the second-lowest rate in the NFL and yet have the third-biggest improvement when using play action of any team in the NFL. 
With play action, Tom Brady ranks fourth in EPA/att, sixth in success rate, has the NFL's lowest sack/INT rate and the 10th best TD/INT rate. 
Without play action, Brady falls to 17th in EPA/att, 20th in success rate. 
Brady's play action rate (23%) ranks 44th out of 45 qualifying QBs. 
Ironically, this might be a game to lower the play action rate, because the Cowboys defense ranks second in the NFL when teams use play action but ranks 26th when teams pass the ball without using play action.   
And that ranking has only gotten worse. 
Since Week 8, the Cowboys rank as the sixth-best pass defense vs play action but the second-worst pass defense when teams do not use play action. 
The Cowboys defense has also struggled playing games on grass this season. 
They've played six games on grass this season: 
Week 6 in Philadelphia

Week 10 in Green Bay

Week 15 in Jacksonville

Week 17 in Tennessee

Week 18 in Washington
They also played an outdoor road game in New York, which is artificial turf. 
Here are their splits on grass vs. all other games: 
Grass: 0.00 EPA/play, 41% success rate, 5.5 yds/play, +0.06 EPA/pass, 7.6 YPA, -0.05 EPA/rush, 4.6 YPC, 7.3% pressure rate

Turf: -0.12 EPA/play, 38% success rate, 4.9 yds/play, -0.07 EPA/pass, 6.6 YPA, -0.13 EPA/rush, 4.3 YPC, 9.1% pressure rate
Where does this rank? 
0.00 EPA/play, as they have on grass, is the equivalent of ranking 19th, tied with the Texans.

-0.12 EPA/play, as they have on turf, is the equivalent of ranking first in the NFL
Their main area of improvement is against the pass. They get much more pressure and have better efficiency metrics. 
Their EPA/pass of -0.07 on turf would rank third on the season, while their EPA/pass of +0.06 on grass would rank 23rd. 
They shift from third-best to 10th-worst. 
These metrics were suggested by Jason Garrett on the telecast last week. There also is the coincidence that these ranks are trailing off as the Cowboys defense has trailed off to close the season, so while there may be some truth to their performance on grass, we also know they're playing much worse overall to close the year. 
The final six weeks of the season, despite playing three offenses that rank bottom-five, including facing: 
Week 18: rookie Sam Howell

Week 17: Josh Dobbs making his first NFL start

Week 16: backup Gardner Minshew

Week 15: Trevor Lawrence

Week 14: Davis Mills/Jeff Driskel

Week 13: Matt Ryan
The Cowboys pass defense allowed the ninth-highest rate of pass plays to gain 20-plus yards and only the Titans allowed more pass plays of 20-plus yards. 
This game is a tough one to peg and while I think the linesmakers got it right by making the Cowboys a favorite, I would look to tease the Bucs up and hope they aren't doomed by terrible offensive coaching. 
Warren Sharp is an NFL analyst for FOX Sports. He is the founder of Sharp Football Analysis and has worked as a consultant for league franchises while also previously contributing to ESPN and The Ringer, among other outlets. He studied engineering before using his statistical acumen to create predictive football models. You can follow Warren on Twitter at @SharpFootball.
Top stories from FOX Sports:
Download the FOX Super 6 app for your chance to win thousands of dollars on the biggest sporting events each and every week! Just make your picks and you could win the grand prize. Download and play today!
---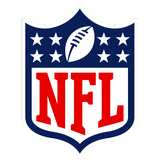 Get more from National Football League Follow your favorites to get information about games, news and more
---
---